Pitatto Safety Inspection Center

Safety inspection can be conducted one month before the expiration date!
Please feel at home and have a soft drink in the lounge on the second floor of the Center while waiting for the inspection.
The reason why Pitatto Safety Inspection Center is chosen
1

We can handle any car type because many of our mechanics have experience working for dealers.

2

All mechanics have the 2nd grade national mechanic license. Please feel at ease with our inspection.
Our Services
Safety inspection, checkup and repair

Recently, advances in technology have made cars less prone to breakage, and more people are using cars for 5 and 10 years. However, failure of appropriate maintenance may result in an unexpected breakdown which may lead to serious accidents. In order to use a car longer, maintenance and inspection are essential.

Car body work and paint

Specialized technicians handle car body work and painting. Please leave your car with accident repairs for us to handle. You can consult us about car body work and get a quotation for the cost.

Purchase and sale

"I cannot accept the trade-in price of my old model car," "I want to sell my car for the highest possible price!"
-- We love to hear such voices from you. We also search for new domestic cars and used cars of choice for customers who are considering purchasing. Please remember Pitatto Car Inspection Center for both occasions of purchase and selling.
Safety inspection and car body maintenance


Light car




Small passenger car
Weight 1 ton or lower

Middle passenger car
Weight 1.5 ton or lower

Large passenger car
Weight 2 ton or lower

Automobile inspection basic wage fee

(include tax)

26,400yen
27,500yen
28,600yen
29,700yen
discount wage

(include tax)

16,500yen

※
Statutory
Mandatory vehicle liability insurance
19,730en
20,010yen
Weight tax
6,600yen
16,400yen
24,600yen
32,800yen
Stamp tax
1,100yen
1,200yen
Inspection update

(include tax)

0 yen(Application fee・administrative cost)
Normal price

(include tax)

64,830yen
76,110yen
85,410yen
94,710yen

Total

43,930yen

54,110yen

62,310yen

70,510yen
We will check if the condition of the car conforms to the inspection safety standards of the vehicle inspection and whether there is part of the failure that could be dangerous. Mechanics with national qualifications, disassemble your car quickly and inspect it based on inspection items prescribed by the law.
Also, if there is a part that needs replacement or repair, we will check with you before start working.
We will propose a separate quotation if additional maintenance is required.
*Safety inspection fee doesn't include a headlight adjustment fee, side slip adjustment fee, cost for incidental work, replacement parts, and oil/grease.
* We do not inspect illegally modified cars.
Weight tax as a statutory fee
[Note] The above weight tax is the amount applied for cars less than 13 year old from the initial registration.

Weight taxes for tax exempted eco cars (75% or 50%) or non-eco cars 13 or 18 years old are different. In that case, we will inform you after checking the car inspection certificate.
Inspection fee and incidental work cost chart
(Sample: 2000cc passenger car)
The following incidental works will be charged for a safety inspection. Even though you think that is cheap at the beginning, it often ends up with unexpectedly higher costs with various incidental works. We will discuss with you and conduct safety inspection according to your budget.
Ddealer K
Our Company
Basic fee
Standerd 27,500yen
After discount


13,200yen

16,500yen

We include in basic wages
Headlight adjustment
1,650yen
0
We include in basic wages
Side slip adjustment
2,750yen
0
We include in basic wages
Brake cleaning
1,100yen
0
We include in basic wages
Short parts
1,100yen
0
We include in basic wages
Application fee
13,200yen
0
This is the agency fee for preparing and submitting the documents to be applied to the Transport Bureau.
Administration fee
4,180yen
0
Total regular replacement item cost
37,180yen(include tax)
16,500yen(include tax)
Research result
There are many chargeable items at the new car dealer and it turned out to be very expensive. Although the other two companies charge both high and low prices depending on the items, total safety inspection costs were almost the same. However, a car inspection with cheaper basic labor cost sets the additional work fee at a higher price to balance out. And if maintenance is carried out for you to drive safely, the overall safety inspection fee will be high as a result.
We put interaction with our customers as the top priority and make proposals adjusted to the customers' budget with techniques and knowledge equivalent to those of dealers.
Flow of safety inspection
STEP1

Reservation

Please reserve first. Please feel free to consult us with any questions or uncertainties concerning the car inspection.

STEP2

Custody

Please bring your car at the reserved date and time.

STEP3

Safety inspection/Completion inspection

After the car mechanic inspects, an automobile inspector with a national qualification examines the vehicle and checks whether it passed the vehicle inspection.

STEP4

Payment and delivery

Upon the payment, safety inspection is completed.
Items necessary for safety inspection
1. Vehicle inspection certification
2. Mandatory vehicle liability insurance certificate

(*Please contact us in advance if it's lost or invalid)

3. Certificate of car tax payment

(*The latest one)

4. Stamp
Payment
You can pay by cash or credit card.

New car/Used car sale

Let us help you selecting a car!


Full support even at the time of emergency
We have aninsurance agent, repair and car body work shop, and a carrier car. You can count on us!
Our recommended cars
| | |
| --- | --- |
| Model type/grade | Price |
| 6,534 yen | 156,816 yen |

| | |
| --- | --- |
| Model type/grade | Price |
| 7,250 yen | 174,240 yen |

Model type/grade

8,415 yen

Model type/grade
Price

8,910

yen


178,320 yen

| | |
| --- | --- |
| Model type/grade | Price |
| 10,230 yen | 245,520 yen |

| | |
| --- | --- |
| Model type/grade | Price |
| 11,000yen | 264,000 yen |

Model type/grade
Price
18,370 yen

440,880

yen

| | |
| --- | --- |
| Model type/grade | Price |
| 45,375yen | ― |

Model type/grade
Price

14,520

yen

348,480

yen

Model type/grade
Price
Manufacturer
Year

32,560

yen

781,440

yen
22-inch wide TV
LED lighting
large cold box

We have versions with 26 seats for transportation for a group trip. Reasonable services are available for club activities.
Car purchase

We buy your car! Those who are exchanging to new/used car or those who are disposing car.
-Aren't you giving up because the mileage of the car exceeds 100,000 km?
-Aren't you giving up because the model is too old?
-Aren't you giving up because there are too many scratches and dents?
-Aren't you giving up because another company presented an unacceptable purchase price?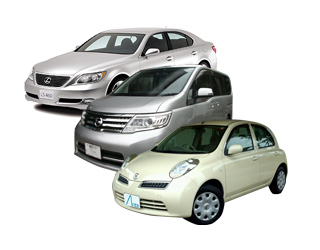 Please consult with Pitatto Safety Inspection Center!
Flow of car purchase
STEP1

Contact for selling your car

Please give us your car's information via an inquiry form or telephone.

STEP2

Assessment of your car

We will inform you of the approximate value of your car. If you wish to know a more specific quotation amount, let us check your car.

STEP3

Closing

We will present you with a revised quotation, and if you agree with it, we will process for purchase.