Golfer Insurance
You can subscribe even the day
before your round!
Accident reception is
available 24/365.
Standard plan (yen)
Status plan (yen)
Course A
Course B
Course C
Course C
Course B
Course C
Annual premium
3,000yen
6,000yen
9,000yen
11,000yen
14,000yen
18,000yen
Compensation for liability
50,000,000yen
100,000,000yen
120,000,000yen
150,000,000yen
150,000,000yen
200,000,000yen
Golfer injury compensation (*1)
3,200,000yen
2,800,000yen
2,800,000yen
3,900,0000yen
4,000,000yen
4,500,000yen
Golf equipment compensation
100,000yen
270,000yen
290,000yen
340,000yen
360,000yen
330,000yen
Golf equipment compensation
100,000yen
200,000yen
400,000yen
500,000yen
700,000yen
1,000,000yen
This website introduces products of Mitsui Sumitomo Insurance with which a subscription procedure can be completed online for customers' convenience.

*There is no deductible.
*1 1.5/1000 of the accident insurance amount per hospitalized day shall be paid. 1.0/1000 of the accident insurance amount per outpatient visit shall be paid.
Golfer Insurance: Extensive coverage
| | |
| --- | --- |
| Compensation for liability | When your ball hits someone and causes injury and the liability for legal damage on a golf course, etc… |
| Golfer injury compensation | When practicing golf at a practicing range or playing in a golf course, you are accidentally injured, etc… |
| Golf equipment compensation | When golf equipment is stolen, a golf club broken on a golf course or the golf practicing site, etc... |
| Hole in one/Albatross cost compensation | When you achieve a hole-in-one or Albatross and have to treat other players… |
Flow of insurance claim payment
STEP1

Report the accident (Contact: 0120-258-189)

Mitsui Sumitomo Insurance Accident Report Center, available 24/365

STEP2

Mailing the insurance claim form

The insurance claim form is sent to you.

STEP3

Preparation and submission of required documents

Please fill out the insurance claim form and prepare the necessary documents, and submit them.

STEP4

Insurance claim payment

Please confirm the amount of insurance to be paid, and then the amount will be paid.
Flow of the subscription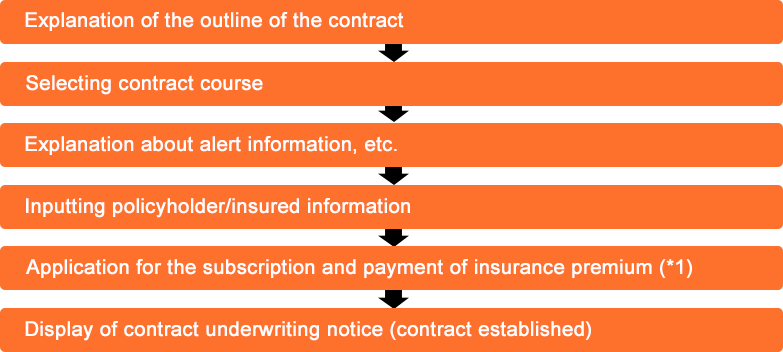 The start date can be set within 60 days from the next day of the subscription date.
*1 Since only credit card is accepted for payment of the premium, please enter your credit card information. The following credit cards are accepted.
Also, policyholder and the credit card member have to be the same person.
This homepage explains the features of overseas travel insurance.
For details, please see the explanation of the application screen of "Net de insurance @ toraberu".
【Approval number】B18-102492 【Expiration date】February 13, 2020